Description

Shipping

Returns

Damaged/Lost Items
Tired of Your Physique, Energy, and Focus Being at the Mercy of Your Hormones?
WHAT IF YOU COULD.
"PMS-Proof" Your Life
SO YOU CAN START BLASTING THROUGH
FATIGUE & STOP TACKLING
THE SAME 10 LBS?
Introducing SUPERHUMAN WOMAN the All-In-One Hormone Support Performance Drink That Helps Manage Mood Swings, Exhaustion, Cramping, Cravings, and Breakouts So You Don't Have to Keep Starting Over.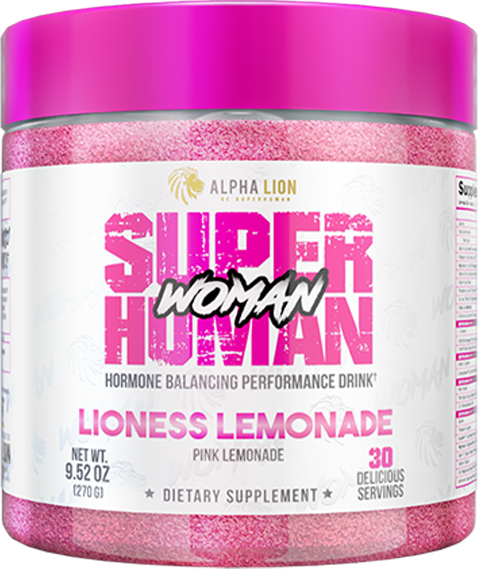 Sugar-Free
Caffeine-Free

Gluten-Free

Vegan

8 Cals Per Serving
YOU'RE NOT CRAZY… PMS MAKES IT HARD TO STAY ACTIVE ALL MONTH LONG.
Watching your fitness goals go spiraling down the drain every month sucks.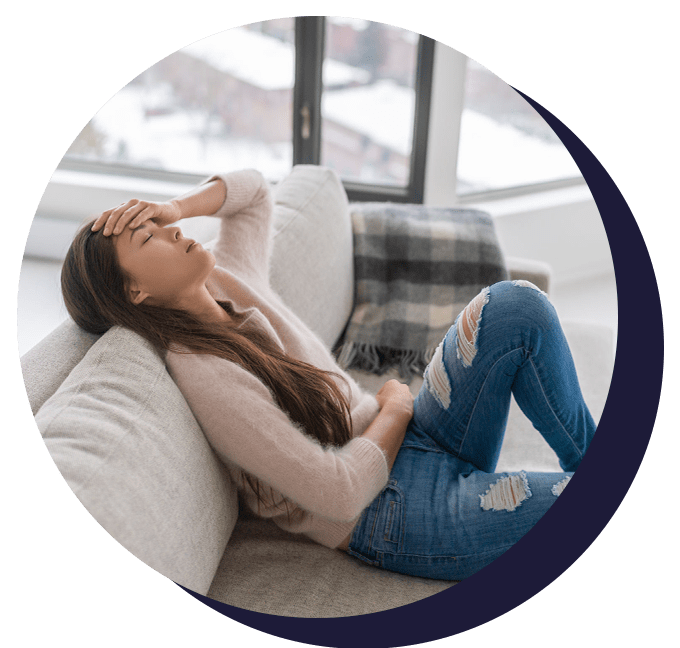 You know what else sucks?
Knowing a workout would help the cramping, fatigue, mood swings, and breakouts but being too tired to do it...

Barely getting through half your workout without taking a break or quitting altogether

Having the reappearing pooch to deal with month after month
And just generally having ovaries, right?
Obviously, it's not your fault.
But it doesn't feel that way when you're stuck in PMS prison, helplessly watching all your progress go to waste for 7-14 days every month.
But what if it didn't have to be this way?
I ask because, well, it doesn't have to be this way…
IT'S TRUE, HERE'S WHAT'S POSSIBLE WHEN YOU STOP BEATING YOURSELF UP AND GET THE HORMONAL SUPPORT YOU DESERVE…
FINALLY, MEET THE
ALL-IN-ONE HORMONE SUPPORT PERFORMANCE DRINK
THAT BLASTS THROUGH PMS SO YOU CAN KEEP PERFORMING AT YOUR PEAK ALL MONTH LONG.
Sugar-Free
Caffeine-Free

Gluten-Free

Vegan

8 Cals Per Serving
So… Why did a bunch of guys create a female hormone support drink?
It's simple: we all have women we care about in our lives.
And like us, they WANT to be active and healthy.
But we saw their struggle month in and month out and had to figure out a way to help...
Without spending a fortune on 4-5 different supplements
Without relying on caffeine and sugar
Without getting duped on ineffective "women's formulas"
And without having to start all over again every single month.
WHAT MAKES SUPERHUMAN WOMAN UNIQUE?

A CLEAN & TASTY DAILY DRINK
Our formula is a tasty, caffeine-free, sugar-free drink… not a pill or an energy drink in disguise.

HYDRATES & BALANCES
You get the perfect combination of vitamins, minerals, adaptogens, and patented ingredients that hydrate and balance hormones at the same time.

CLINICALLY DOSED INGREDIENTS
We only include premium quality ingredients that are clinically dosed, including 8 trademarked and patented ingredients.
IT WOULD BE ENOUGH TO STOP THERE, WOULDN'T IT? BUT, WE THINK YOU DESERVE BETTER. SO WE DID BETTER.
---
HERE'S WHAT ELSE SUPERHUMAN WOMAN DELIVERS DIFFERENTLY...

CRASH-FREE, JITTER-FREE ENERGY
It delivers clean, long-lasting, jitter-free energy thanks to a synergistic blend of Vitamin B6, Acetyl-L-Carnitine, and a new patented ingredient called Enxtra, which has been shown in clinical studies to improve alertness and focus for up to 5 hours.


HELPS PREVENT COMMON DEFICIENCIES
Magnesium and calcium provide a "daily insurance policy" against two of the most common female mineral deficiencies.

PROVIDES 5X MORE MINERALS & ELECTROLYTES THAN SPORTS DRINKS
Contains a unique multi mineral complex with over 72 trace minerals and all 5 electrolytes dosed at about 5x more than popular sports drinks.
All Orders ship next business day which does not include weekends/holidays.
Free USA priority shipping on orders over $60.
International shipping rates do not include any customs fees.
If you recieved a tracking number that means your order did ship. USPS tracking might not show any info, but please be patient and keep checking. Allow 24hrs for tracking tp update.
Returns are only accepted for unopened items within 30 days of purchase.
Excellent Product !!!
I picked this up as a gift for my girlfriend. She absolutely loves it and uses it every day. I highly recommend purchasing this for the special lady in your life.