Description

Shipping

Returns

Damaged/Lost Items
Frankenstein Strength Blend
The two headed monster of pumps and endurance to boost your strength to the next level. 8 full grams of L-Citrulline and 3.5 grams of Beta Alanine.
Dracula Mind Control Blend
Five proven ingredients to give you laser focus during your workout. Lion's Mane Extract, and Noopept to give you that Mind Control other pre-workouts are lacking.
Monster Stim Blend
The powerhouse of this preworkout, the industry leading stimulant blend. 450 mg of caffeine, 200mg of DMHA, as well as 200mg of Eria Jarensis!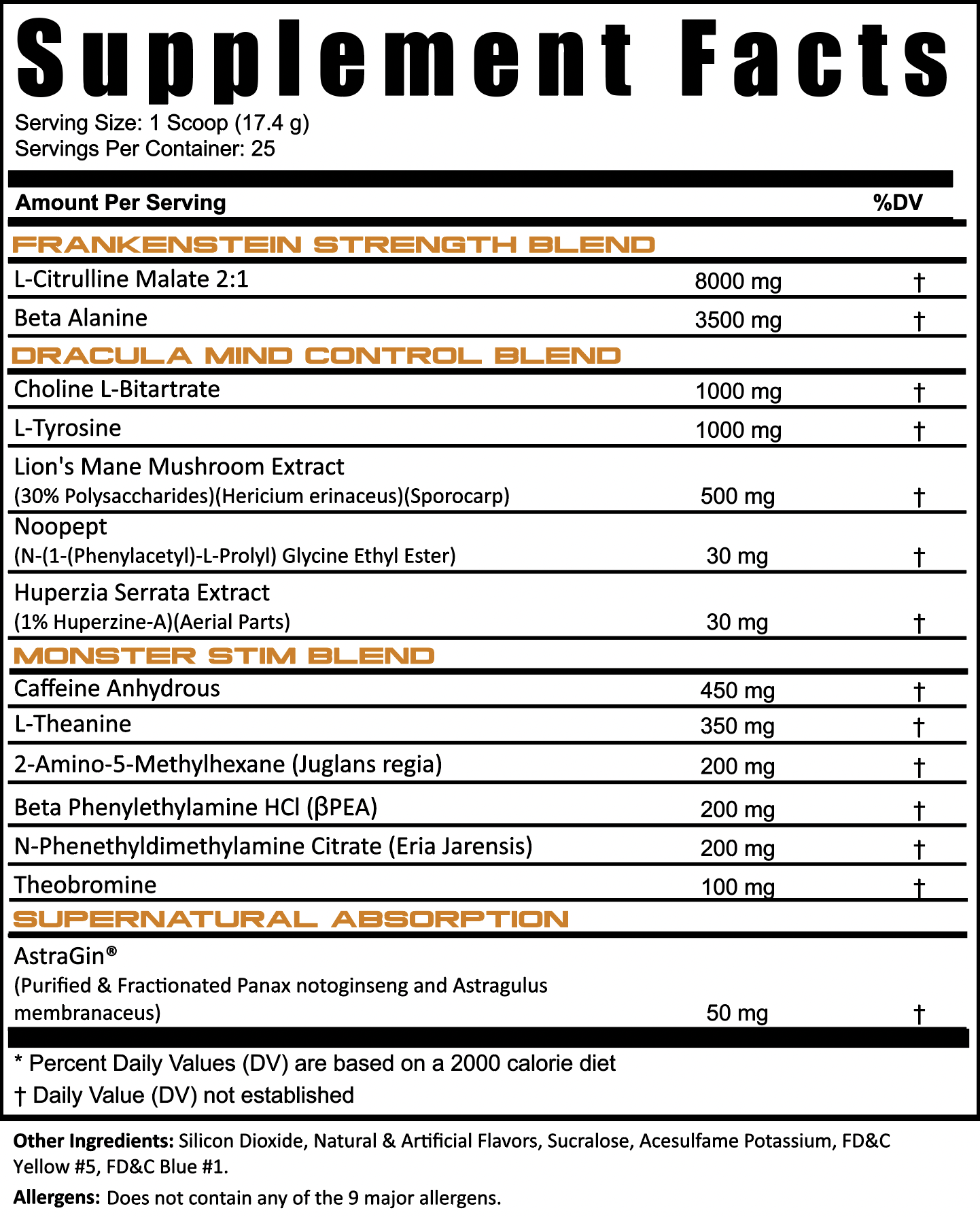 All Orders ship next business day which does not include weekends/holidays. Free shipping on orders over $60.
Returns are only accepted for unopened items within 30 days of purchase.
Great Pre-Workout without the drop off
I was amazed that I didn't have a nasty come down of no energy due to the amount of caffeine in this. But, I was very happy. This is not nearly as strong as some other pre-workouts but I say this in a good way. If you need to have a good solid workout in between the harsher more potent pre-workouts this is definitely a great product. If you are expecting hitting the wall and breaking through it, this isn't as strong as M2 or Crack Reloaded. But, I would reach for this before the Crack Reloaded. But, not before the OG Crack.
Absolute fire
Hits juuussstt right. Energy and focus on point for hours
One of the best tasting pre workout.
Just received this on nov 3. Super fast shipping. Tried it first thing in the morning and one of the best tasting pre workout ive ever tasted. I usually take pre workout without water to get it down as fast as i can. But this got me chugging and i really enjoy it. Clean smooth energy and pump is pretty good. Got me amp up. Focus is amazing.
This is a Heavy Hitter For Sure!
Everything about this pre is fire! Man this thing hits great! Love me some High Stim Saturday action with this one! Taste is great!
amazing
Always look forward to when this comes back out. Amazing focus and energy. pumps are decent too. great pre