Description

Shipping

Returns

Damaged/Lost Items

FDA DISCLAIMER
Sleigh Your Workouts
Defiant Unleashed - Christmas Edition

 
is the same limited edition formula that sells out every time. Increased stimulants, insane focus, massive pump, and tons of endurance. Experience the Grinch Gains, Jack Frost Focus, and Santa Stimulants while you can.
Flavor.
Sour Christmas Candy is a limited edition flavor, most similar to a sour gummy candy. This flavor is a one of a kind, most requested flavor in MuscleForce history. Get it while you can.
Grinch Gains
The two headed monster of pumps and endurance to boost your strength to the next level. 8 full grams of L-Citrulline and 3.5 grams of Beta Alanine.
Jack Frost Focus
Five proven ingredients to give you laser focus during your workout. Lion's Mane Extract, and Noopept to give you that Mind Control other pre-workouts are lacking.
Santa Stim Blend
The powerhouse of this preworkout, the industry leading stimulant blend. 450 mg of caffeine, 200mg of DMHA, as well as 200mg of Eria Jarensis!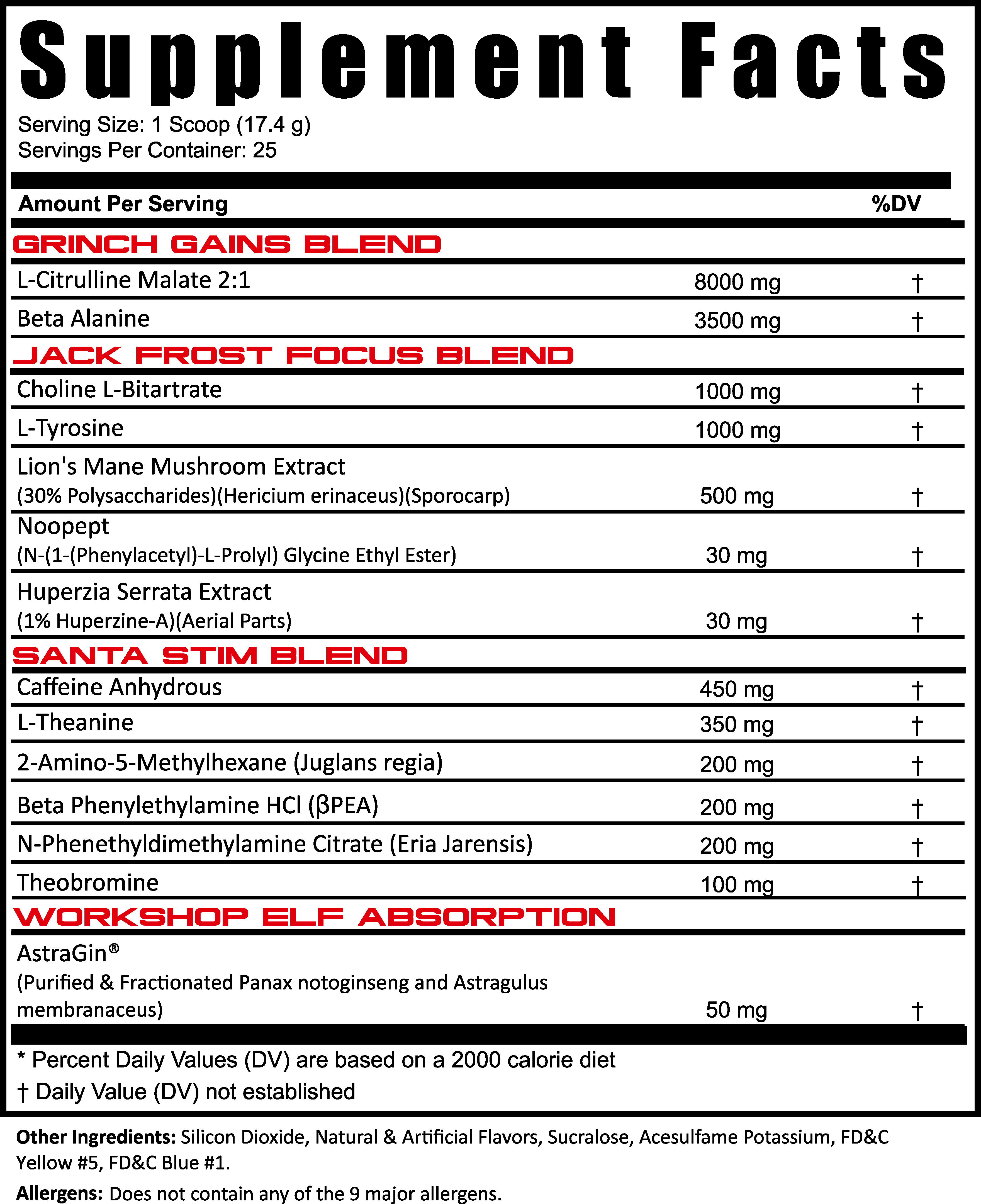 All Orders ship next business day which does not include weekends/holidays.
Free USA priority shipping on orders over $60.
International shipping rates do not include any customs fees.
If you recieved a tracking number that means your order did ship. USPS tracking might not show any info, but please be patient and keep checking. Allow 24hrs for tracking tp update.
Returns are only accepted for unopened items within 30 days of purchase.
Get peace of mind with Delivery Guarantee in the event your delivery is damaged, stolen, or lost during transit with Navidium Protection.

By Deselecting Shipping Protection, we will not be liable for lost or stolen packages.
By selecting Navidium shipping protection, your package is 100% secured in the case of it getting lost, damaged, or stolen. 90% of customers choose this option.
The information provided on this website is intended for general informational purposes only. It is not intended as a substitute for professional medical advice, diagnosis, or treatment. Always seek the advice of your physician or other qualified health care provider regarding any medical condition or treatment.
The statements made regarding the products on this website have not been evaluated by the Food and Drug Administration. The efficacy of these products has not been confirmed by FDA-approved research. These products are not intended to diagnose, treat, cure, or prevent any disease.
Individual results may vary. The results and testimonials presented on this website are not guaranteed and may not reflect the typical user's experience. The products and claims made about specific products on or through this website have not been evaluated by the United States Food and Drug Administration and are not approved to diagnose, treat, cure, or prevent disease.
The information, products, and services provided on this website are provided "as is" without any representations or warranties, express or implied. We make no representations or warranties in relation to the completeness, accuracy, reliability, suitability, or availability of the information, products, or services contained on this website.
You should consult with a healthcare professional before starting any diet, exercise, or supplementation program, before taking any medication, or if you have or suspect you might have a health problem.
We are not responsible for any liability, loss, or damage caused by your reliance on the information or products provided on this website.
By using this website, you acknowledge and agree to the above disclaimers and the terms and conditions outlined in our Terms of Service and Privacy Policy.
Crazy focus!
1 full scoop gave me tunnel vision focus
Posiblemente el mejor producto en el mercado actualmente
De momento lo he usado solamente en dos sesiones de entrenamiento y han sido increíbles en todos los sentidos. Te mantiene enfocado y concentrado, energía brutal y en un buen momento y estado anímico mientras haces el trabajo. Es un producto 10 altamente recomendable para aquellos que quieran saltar a otro nivel.
Good stuff
A rounded scoop did the trick. Wait about half hr and your good to go
Total Package
Great pwo !! Everything you need for a great workout
Feels Really Good
I've used every single Muscle Force pre besides this special edition. I gotta say this kicks you into bodybuilding gear within 15 mins. The focus and endurance are off the charts. Energy is never ending. Makes me wonder how much more beastly this would be without the L-theanine. Great jobuscle Force. Great job Suppkingz for keeping a nice stock. A legendary pre for sure.