Description

Shipping

Returns

Damaged/Lost Items
When it comes to hard-hitting pre-workouts, no one other brand stands a chance against Apollon Nutrition. Yes, we create a lot of controversy and rightfully so. We do what it takes to give our customers THE STRONGEST supplements money can buy and WE DON'T CUT CORNERS. 

So here it is. Our latest version featuring our craziest formula to date. It'll move fast so jump in now while supplies last. 



Liftvault.com has written up a comparison and ingredient panel  
Assassin Pre Workout v7 vs. v6
Some of the most significant differences between Assassin pre workout v7 and v6 are:
New ingredients in v7

300 mg DMHA (Juglans Regia Extract)
2.5 g Betaine Anhydrous
30 mg Noopept
2 mg Yohimbine HCL
75 mg Higenamine

Ingredients removed in v7

Theacrine
Isopropylnorsynephrine
DMAE

v7 has 2 g L-Tyrosine, 500 mg more than v6
v7 has 450 mg caffeine anhydrous + 150 mg di-caffeine malate yield, v6 had a 500 mg / 100 mg split
Assassin Pre Workout v7 Ingredients Label
The ingredient label for Assassin Pre Workout v7 is below. It was unveiled on July 1, 2021.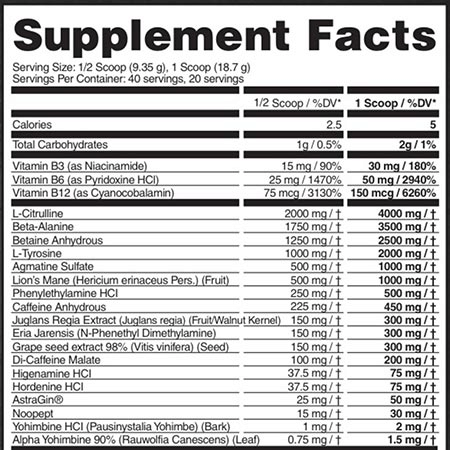 L-Citrulline – 4,000 mg
Beta Alanine – 3,5000 mg
Betaine Anhydrous – 2,500 mg
L-Tyrosine – 2,000 mg
Agmatine Sulfate – 1,000 mg
Lion's Mane – 1,000 mg
Phenylethylamine HCL – 500 mg
Caffeine Anhydrous – 450 mg
Juglans Regia Extract (DMHA) – 300 mg
Eria Jarensis – 300 mg
Grade Seed Extract – 300 mg
Di-Caffeine Malate – 200 mg (150 mg yield)
Higenamine HCL – 75 mg
Hordenine HCL – 75 mg
AstraGin – 50 mg
Noopept – 30 mg
Yohimbine HCL – 2 mg
Alpha Yohimbine – 1.5 mg
All Orders ship next business day which does not include weekends/holidays.
Free USA priority shipping on orders over $60.
International shipping rates do not include any customs fees.
If you recieved a tracking number that means your order did ship. USPS tracking might not show any info, but please be patient and keep checking. Allow 24hrs for tracking tp update.
Returns are only accepted for unopened items within 30 days of purchase.
Assassin V7
I've been trying for years to find a pre workout that's worth a damn, and that will get me off my fat ass and motivated to get fit again. Well, after trying Assassin V7 I know I've finally found it. I stay energized and focused and have lost about 10lbs over the past month. Best thing I've found so far, highly recommend it!
Hard Hitter
It creeps up on you and drops a bomb in your lap. This is very strong and it has serious staying power. I started out with Excelsior which is great so in comparison, this gives you more mental focus.
Pre workout
I ordered 2 pre workouts Assassin and El Jefe. Assassin didn't do much for me, but El Jefe hit hard.
Not bad !
Well I Know the hype on this preworkout is crazy but my experience with it was just ok not that much as i heard about it maybe it's about the batches.
Ps : smoith international shipping thanks suppkingz 👋